Aurosoorya Stress Manager
Version 1.0


Getting Started Guide: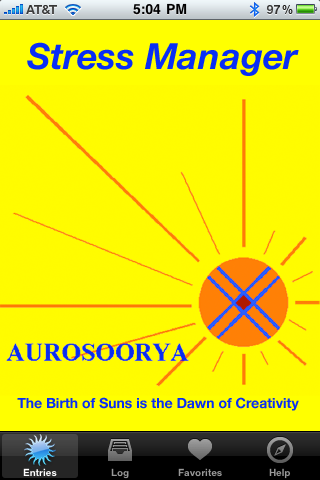 Getting started with Stress Manager is easy. After launching the application you will be greeted with a splash screen which will self dismiss after a few seconds. The first launch (and only the first launch) will take approximately 30 seconds. After the splash screen you will be greeted by the classic Vitruvian Man by Leonardo Da Vinci: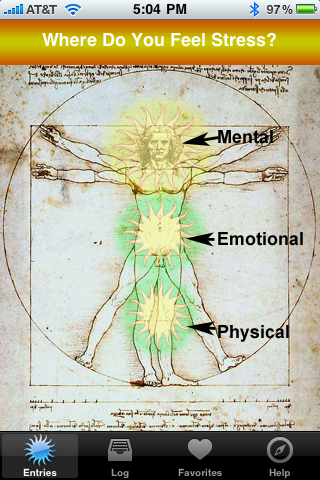 This is where you can choose where you are feeling most of your stress. Simply tap on the corresponding Aura and you will be taken to an appropriate screen. In this example we have tapped on the Mental Aura.




Tapping on the Virtruvian Man Icon in any screen will always bring you back to the home screen where you can start over in choosing from the 3 Auras

In this example we choose the State of Mental Noise:




At this very colorful screen you can tap the colored box where you feel your level of intesity of the Mental State and the duration is appropriate. A Sun Icon will mark your spot. You can then tap on the Note Icon to make a short note (if you wish). This will be accessible in the Log: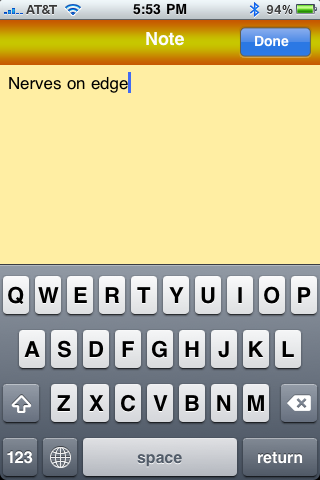 If you tap on the Assist Icon you will be taken to a screen where you can choose a type of Advisor and the type of Assistance you seek: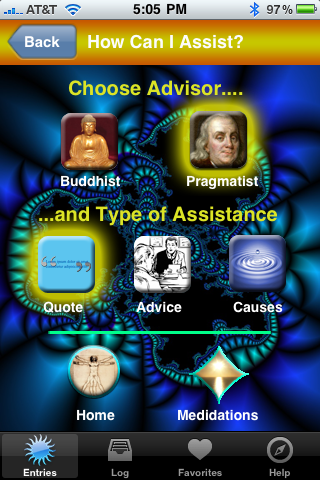 Simply tap on an Advisor and then on the Type of Assistance. You may also simply tap on Meditations for random meditations.
Once you have made your choice, you will be taken to a screen where an appropriate quote, piece of advice, action, or meditation has been chosen for you to ponder: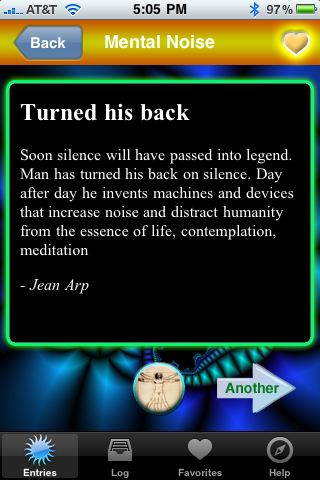 Tapping the Arrows will allow you to bring up a new message, or move back to a previous message. If you find one you are particularly attracted to, tap the Heart in the upper righthand corner. It will take on a Yellow Aura to show that it is now a favorite.
You can access your favorite by tapping on the Heart Icon in the Bottom Tab Bar: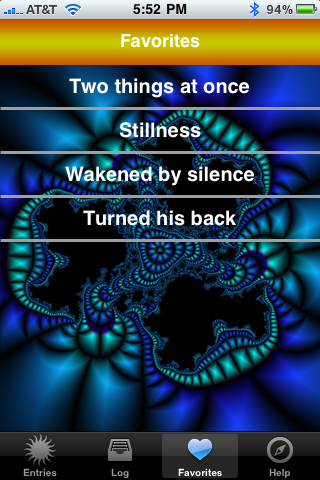 Tapping a Favorite in this list will bring it back up to view. Swipe an entry in this list to the right to bring up the delete button to delete it from the list.
By tapping on the Log Icon in the Bottom Tab Bar you will be taken to a log of your recent activities:




Here you can review your previous states. You can also clear the log by tapping on the Clear button.
Tapping on the Help button will take you to this help file. If you have any more questions or concerns please contact us.

Thank you, and we hope to help you eliminate stress from your life.




The Birth Of Suns Is The Dawn Of Creativity